The Georgia watercolor downloads are now available! You can also access them by clicking on 'free downloads' at the top of the page. All available downloads will be listed there. These files are again in a 3″x4″ format with no crop marks.
For this state, I used:
– Artist Loft watercolor paints
– Canson Artist Series 140lb watercolor paper
– Grumbacher round brush, size 12
– Pentel water brush, fine tip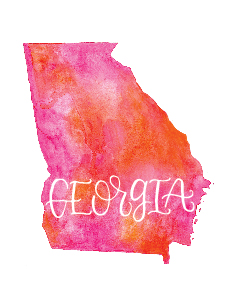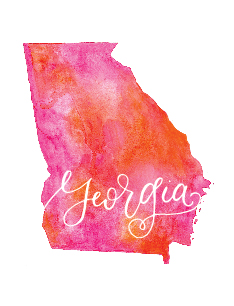 Georgia
Capital: Atlanta
Statehood: 1788
This download is available for free to registered users. This is my original work. Please do not sell it or pass it off as your own. Thank you!
I have been to Atlanta, GA a few times! I am very lucky to have some wonderful family who live there. Visiting family and friends is always my favorite way to experience a place. I've hiked Stone Mountain, visited the Coca Cola factory, explored the Aquarium and had some really awesome food!! Can't wait to go back some day!
I'm going in no specific order with these states, feel free to make a request in the comments or on my Instagram account!
My Plan:
Do one watercolor project each day for 100 days and post it to Instagram.
Track the supplies I used to create the piece so I can learn from my experiences.
Photograph and scan the piece and make it available for download on my site!
If you create anything with the free downloadable cards, I'd love to see it! Please tag me on Instagram @rosiechristinestudio and use the hashtag #100daysrosiewatercolors
Most of these states will be created originally as 8″x10″ and if you would like me to personalize one for you with lettering or a small heart to indicate a certain place you love, I would be so thrilled to do that for you. Just send me a private message via Etsy and I will happily make your state(s) special for you.
xo,
Rosie