Hi!
I have been wanting to do the #100daysproject as a way to help me learn more about watercolors and just to prove to myself that I can do something for 100 days!!
100 days seems quite daunting to someone, such as myself, who really struggles at committing to things long-term. However, my One Little Word this year is 'Confident' and I am intentionally setting out to accomplish things this year that I have shot down in the past because I thought "I can't do that" or "I'm not good enough."
So, today, February 14th, is officially my day 01!  I will put in a disclaimer that I have already decided that I will pause during my 100 days in order to go on vacation with my husband. I thought about waiting to start the project until after the vacation, but I'm really pumped to start right now. I will give myself grace and allow for a break in the middle there 🙂
My Plan:
Do one watercolor project each day for 100 days and post it to Instagram.
Track the supplies I used to create the piece so I can learn from my experiences.
Photograph and scan the piece and make it available for download on my site!
Part of my 100 projects will definitely include each of the 50 states in the US. I'm not yet sure if I'm going to just do them all right away, or intersperse them along with other subjects…I wanted to set myself up for success, though, and I already went through the whole process of creating stencils for each state! So those are sitting here ready to go as I need them.
I randomly picked one out of the pile today and it is New Mexico! In honor of St. Valentines Day, it is a mix of very bright red and deep pink.
One of the reasons I wanted to do each of the 50 states is that I'm pretty sure at no point in my schooling was I required to memorize the states' capitals! So I'm going to take a little time each day to look up the capital and year of statehood for each one I do.
Without further ado, here is New Mexico!  You can download the printables for New Mexico by following this link or by clicking on "Free Downloads" up at the top of the page.  You will also need to register to my site.
New Mexico
Capital: Santa Fe
Statehood: 1912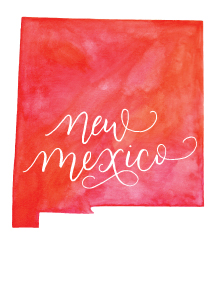 And just as a reminder, this is my original work. Please do not sell this work or pass it off as your own. It makes me very happy to share it with you, but if I feel that it is being abused, I will not be able to share it in this way – and that would be a big bummer.

I saved these as 3″x4″ but I purposely didn't include crop marks so that you could cut out any size card you'd like. For example, you could also place it on a 4×6 card with the image off to one side! And there are actually two files in the download!! One is the image above and the other has New Mexico written in more of a mixed font style. I'm also assuming that everyone printers print a little differently. So just be aware that your print may not look exactly as it does on your screen!
If you create anything with this card, I'd love to see it! Please tag me on Instagram @rosiechristinestudio and use the hashtag #100daysrosiewatercolors
Most of these states will be created originally as 8″x10″ and if you would like me to personalize one for you with lettering or a small heart to indicate a certain place you love, I would be so thrilled to do that for you. Just send me a private message via Etsy and I will happily make your state(s) special for you.