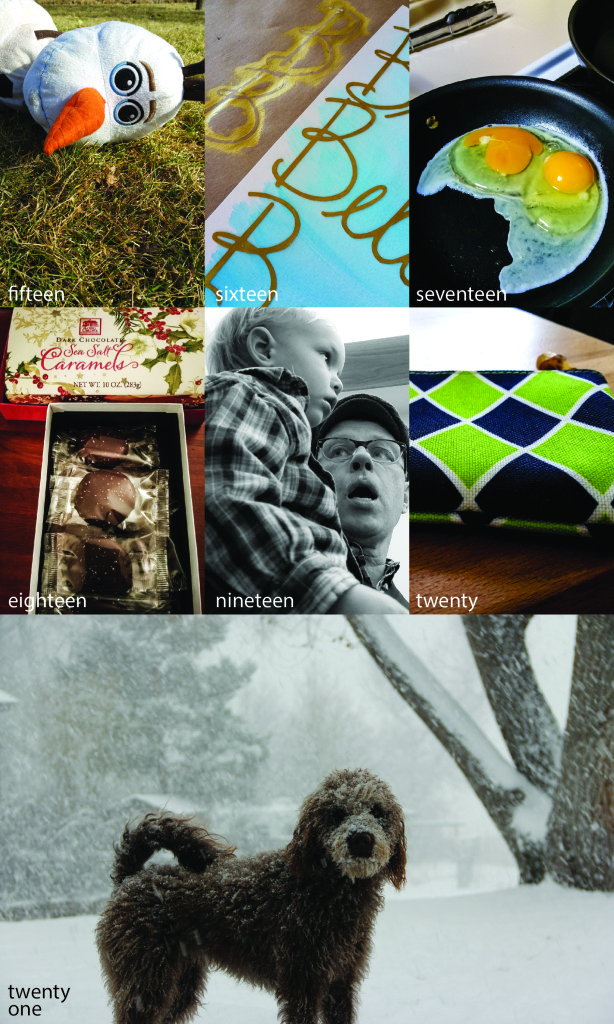 Day15 – Eyes: Olaf was a Christmas gift to Penny this last year and he has. been. everywhere. in our house and yard.  Both dogs love him and he gets dragged in and out all day long.  As I have mentioned, I do have a soft spot for snowmen and Olaf is no exception – I think he's really cute.
Day16 – Letter: I have a little mantra going for myself this year: "Breathe. Believe. Be." I created a pretty poster for my office to hang above my computer with water colors, my handwriting, the Silhouette and some gold paint.  It turned out pretty well, really.
Day17 – Eggs: Mr. Faber made me eggs that morning…he's so good to me.
Day18 – Boxes: My lovely friend, Tess, and her hubby came to visit in January and she brought me a box of these super-delicious dark chocolate sea salt caramels from a confectionery in her hometown.  I LOVE these and I have treated myself to one each evening since receiving them.
Day19 – A Song: This is photo from December that I did some post processing on for this prompt because A. I adore it, and B. It was perfect for the prompt!  My parents had a huge party (60+ people) while my siblings and I were all home in early December.  We have a rather large family and many of my cousins now have children of their own.  This is a photo of one of my Uncles singing while holding his grandson. We had a lovely carolling session (lots of great voices in our family and friends circle).
Day20 – Diagonal: A cute bag that my friend's mom gave me. It came in a set of three, all different sizes. Bright green and navy is one of my favorite color combos – I use them a lot, especially when I'm traveling.
Day21 – Contrast: My dark brown Penelope against/in the snowstorm. swoon.