Happy 2017!
I am hoping to make blogging a high priority this year so here is what is hopefully the first of many 2017 posts 🙂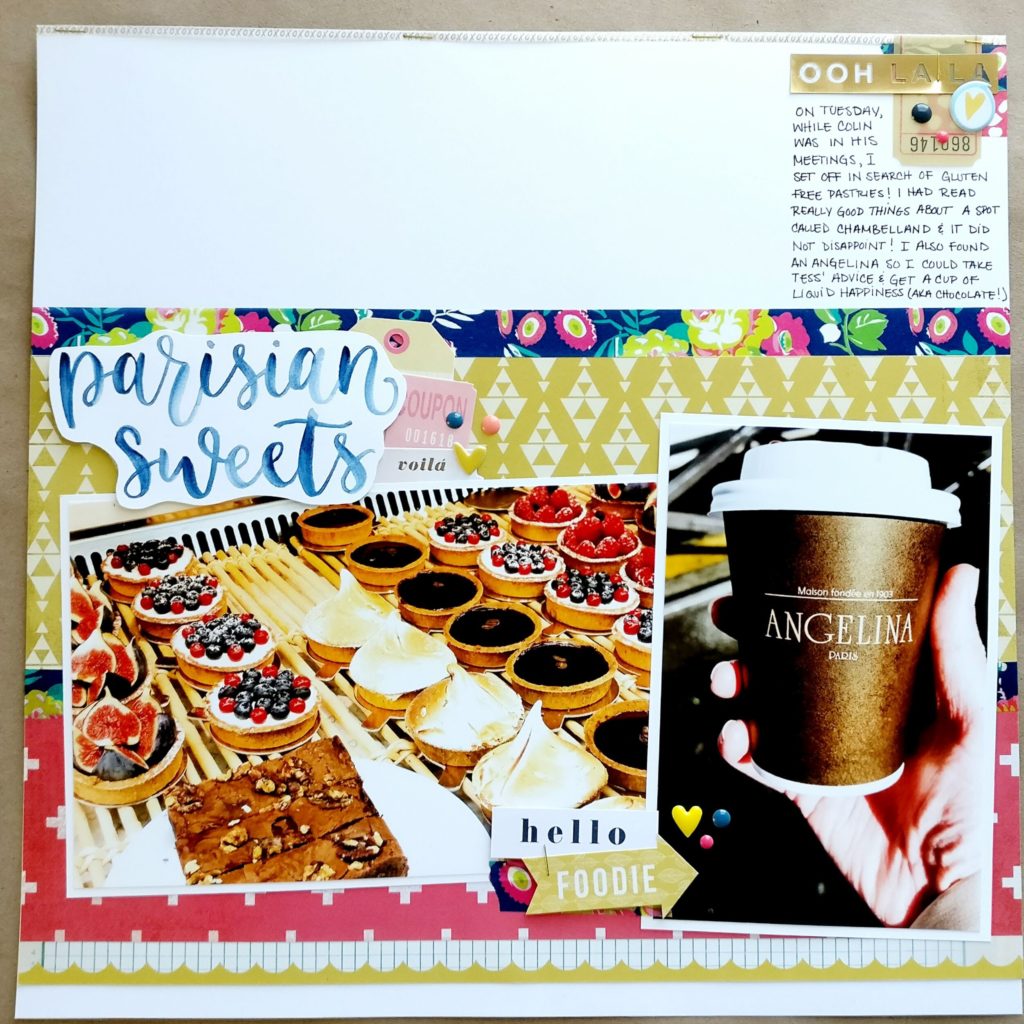 I'm hoping to start the year out by putting a big dent in my 2015 Europe Trip album. We visited Cannes, France; Paris France; London, UK during that trip. For the first time in months, I sat down to do a 12×12 spread and it felt amazing!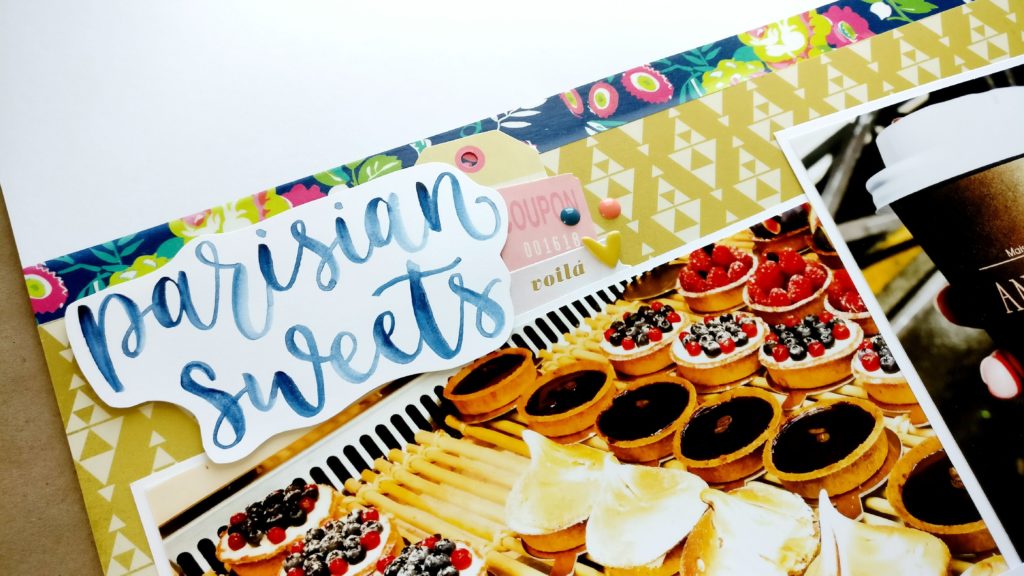 I love working on this project largely due to the photographs and also because of the products I have set aside for this album.  I am using papers and ephemera from both the Crate Paper: Journey and Pink Paislee: C'est La Vie. I have some other things from my stash thrown into the mix as well that go nicely with these lines.
Every time I open my case with all the goodies in it, though, my heart gets happy. I just love the mix of bright colors and easy-to-use patterns! Plus, using the C'est la Vie collection works perfectly with my french photos as it includes quite a few french words!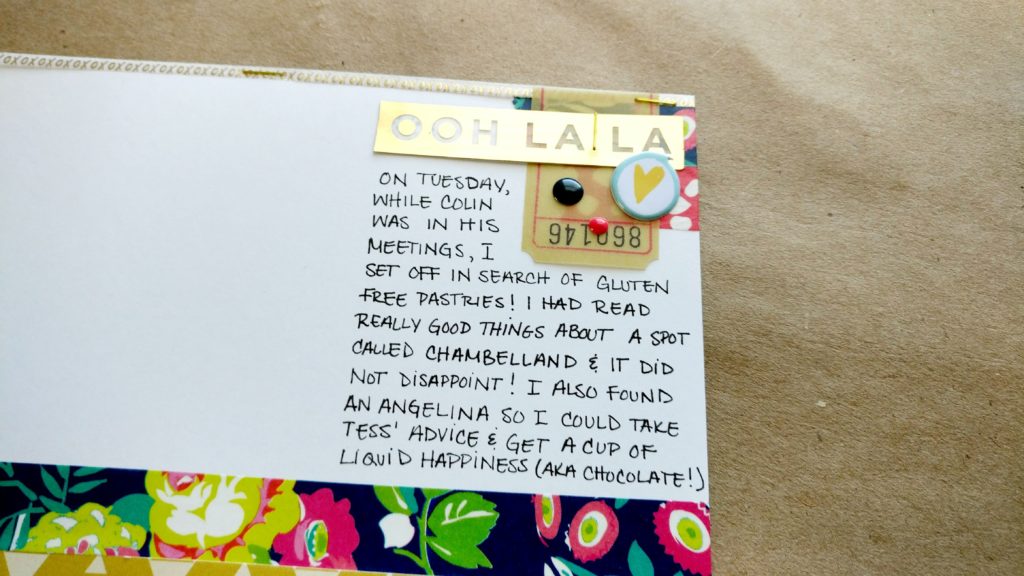 For this page, I used two papers from the Journey collection and some washi tape that I picked up from Target for the foundation to place my photos on. I also matted my photos on white cardstock. I love matting photos, especially if:
– they are 'busy' with lots of different colors
– I'm going to be overlapping/layering the photos
– The colors in the photos are really similar to the colors in the papers they will be on top of.
I think the matting really helps the photos stand out on this page and keeps them as the focus despite all of the other paper goodness going on.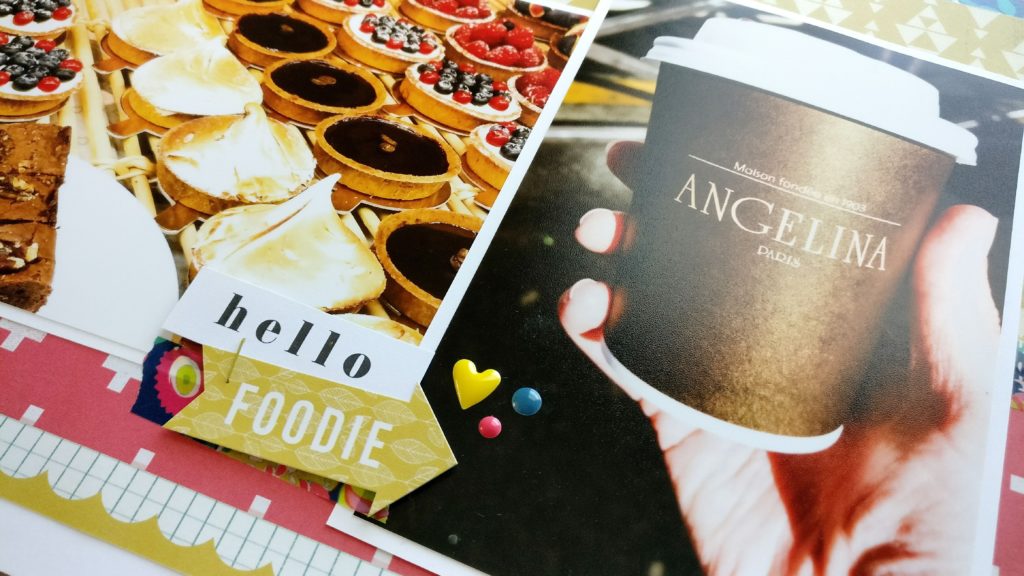 "Parisian Sweets" was hand lettered by yours truly! I used my Kuretake water colors (No. 67) and a fine tipped water brush on some white cardstock. I love how it turned out! I post a lot of my hand lettering on my Instagram account, so make sure to follow me there if enjoy that sort of thing!
The journaling:
On Tuesday, while Colin was in his meetings, I set off in search of Gluten Free pastries! I had heard good things about a spot called Chambelland and it did not disappoint! I also found an Angelina so I could take Tess' advice and get a cup of liquid happiness (aka chocolate!)
Chambelland was seriously so good. Everything is Gluten Free and they cater to some other allergies and dietary needs as well.  Scrapping these pictures seriously put a fire under me to get back to Paris…just so I can get some more of those amazing goodies!!
The liquid chocolate drink from Angelina's was also out of this world good…hard to go back to regular hot chocolate after an experience like that!
Hope you have also made some creative goals – or travel goals for that matter – for 2017! Would love to hear about them or have links to them in the comments section so I can check them out!!
xoxo
Rosie