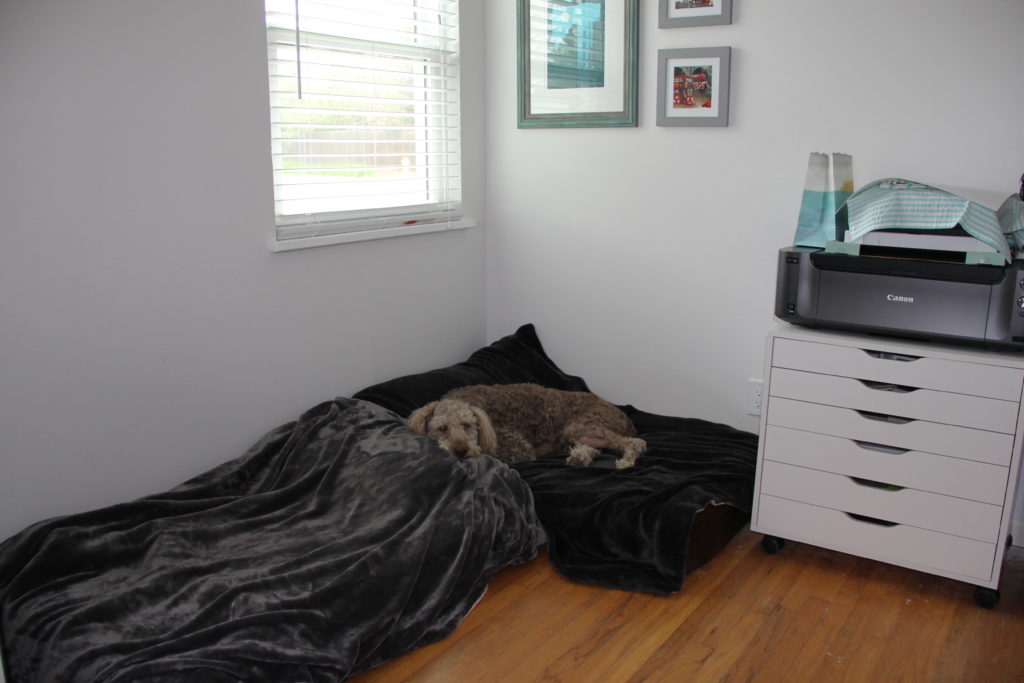 Ahhhh, Sunday. Slept in until 10! Can't remember the last time I did that. Another gloomy day, perfect for extra sleep.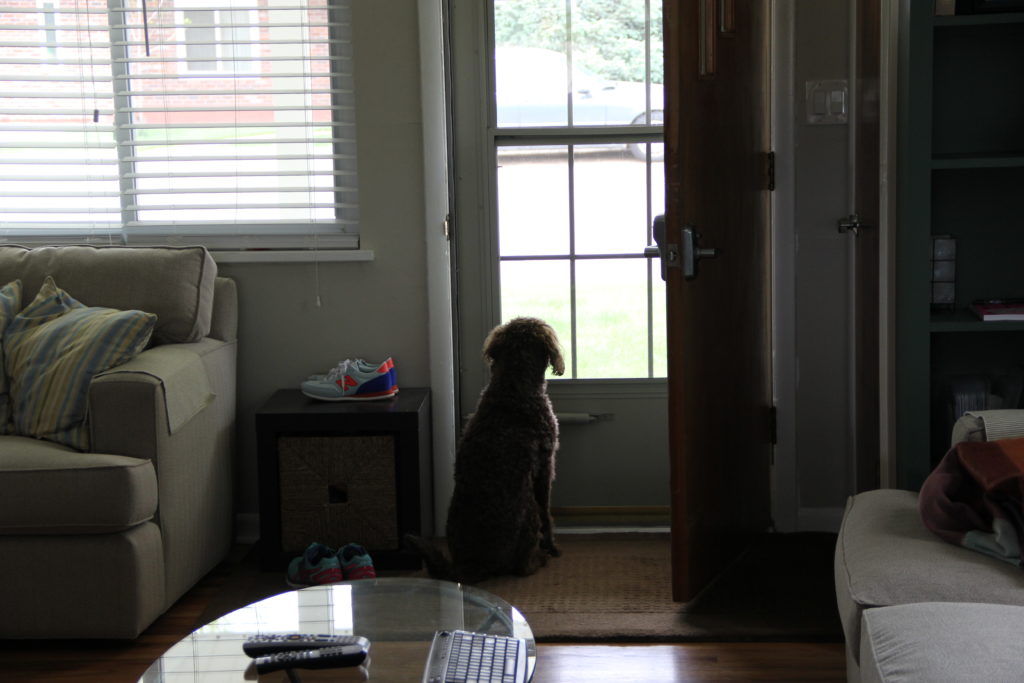 Our guardian. Always on the lookout.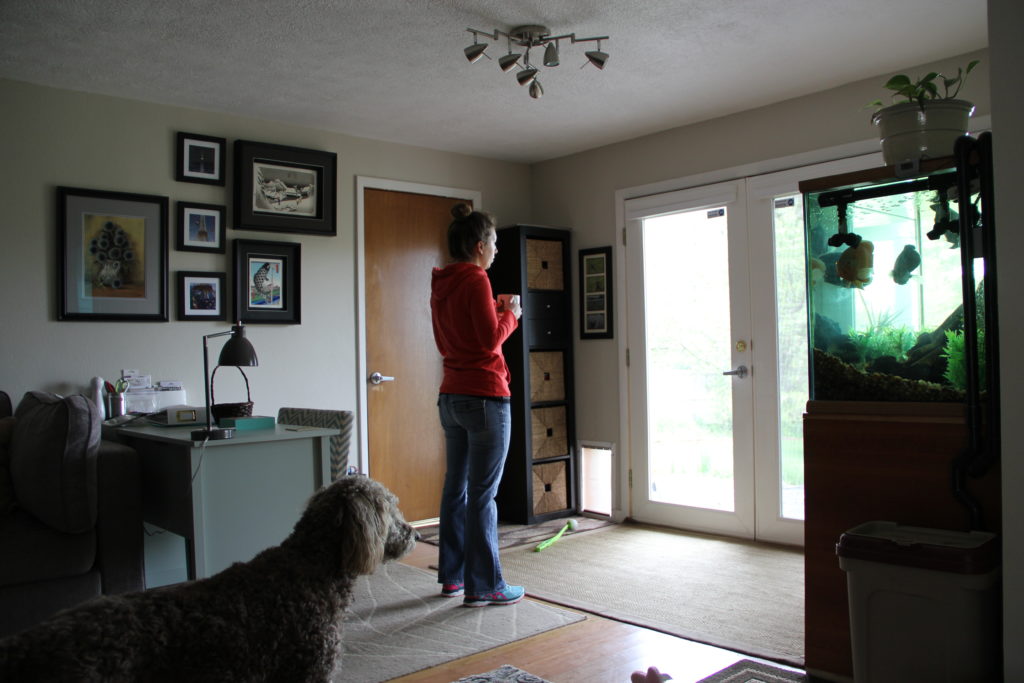 Enjoying the coffee Colin made me before he left to get supplies for the sprinkler system. Apparently lots of other people had the same idea as he did. There really weren't enough parts available at the hardware store to do what he wanted, so he's going to wait until the specialty shop opens on Monday and order the supplies from them. I'm kinda grateful that it worked out this way. Now I can get some other chores and tasks off my list instead. Things always seem to work out just the way we need them to…even if it wasn't according to plan.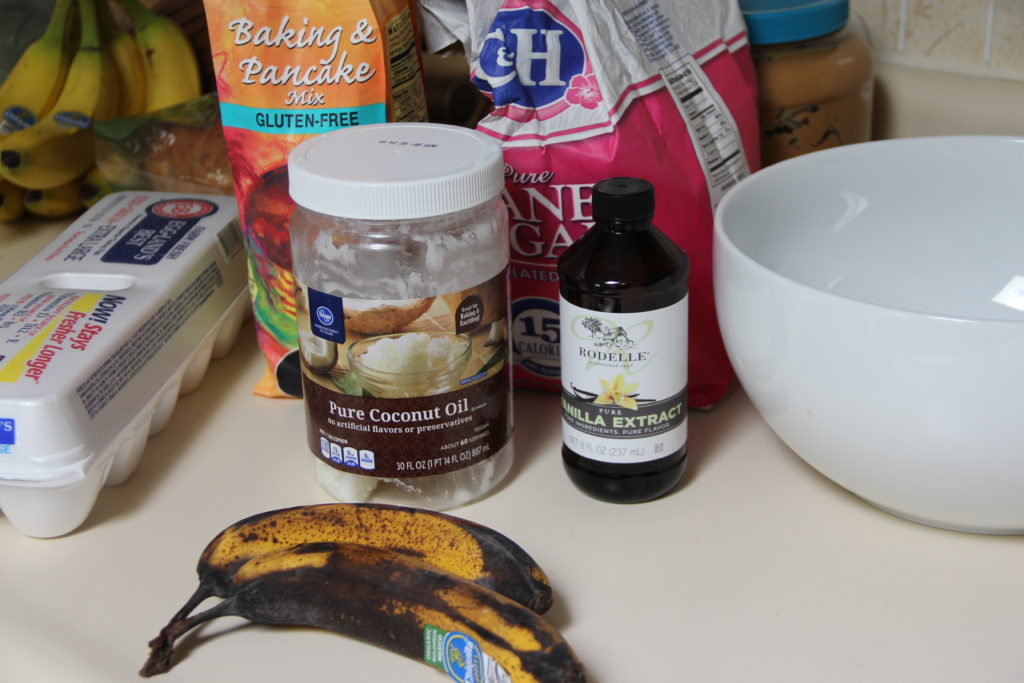 First thing on the list…make banana bread!  These bananas were just perfect! I'm gluten free. We love the Pamela's mix for pancakes, banana bread and chocolate chip cookies. I've been using coconut oil in my baking a lot recently. It works really well as an alternative to butter. We use butter on some things, but I try to find good substitutes when I can.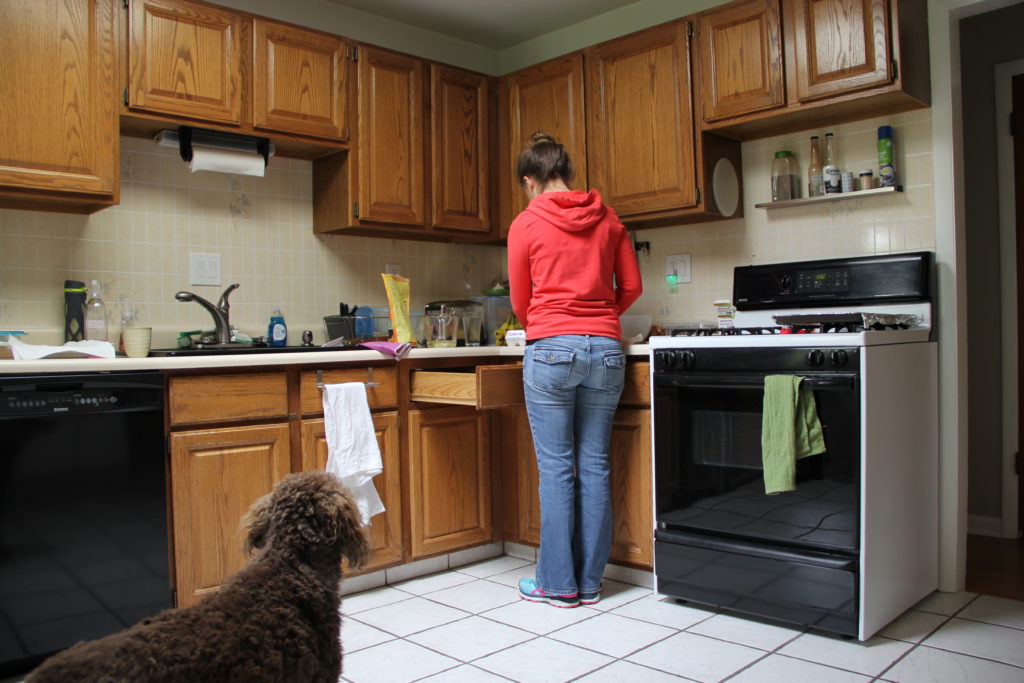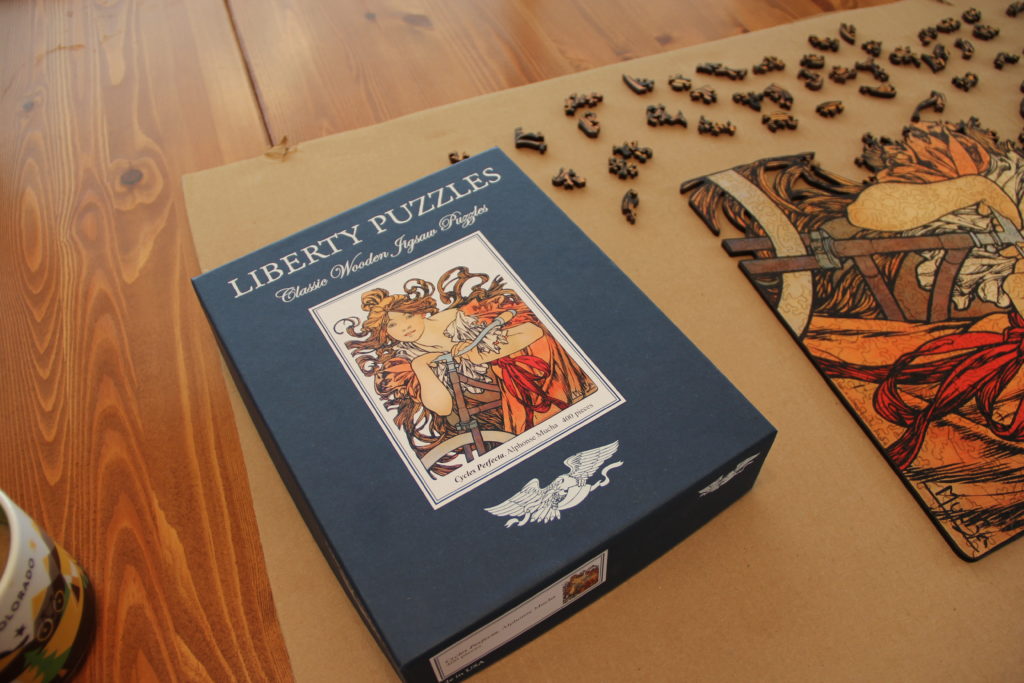 While the banana bread is in the oven, I sit down with my reheated coffee to work on the puzzle. It got started weeks ago when some friends were here and I've been slowly finishing it ever since. Getting really close!  These puzzles are awesome and difficult. The company, Liberty Puzzles, is in Boulder. My mother-in-law got me one for Christmas a couple years ago and I'm a huge fan. I bought this one for my Aunt this year and she brought it over for me to try after she finished it. They make great gifts!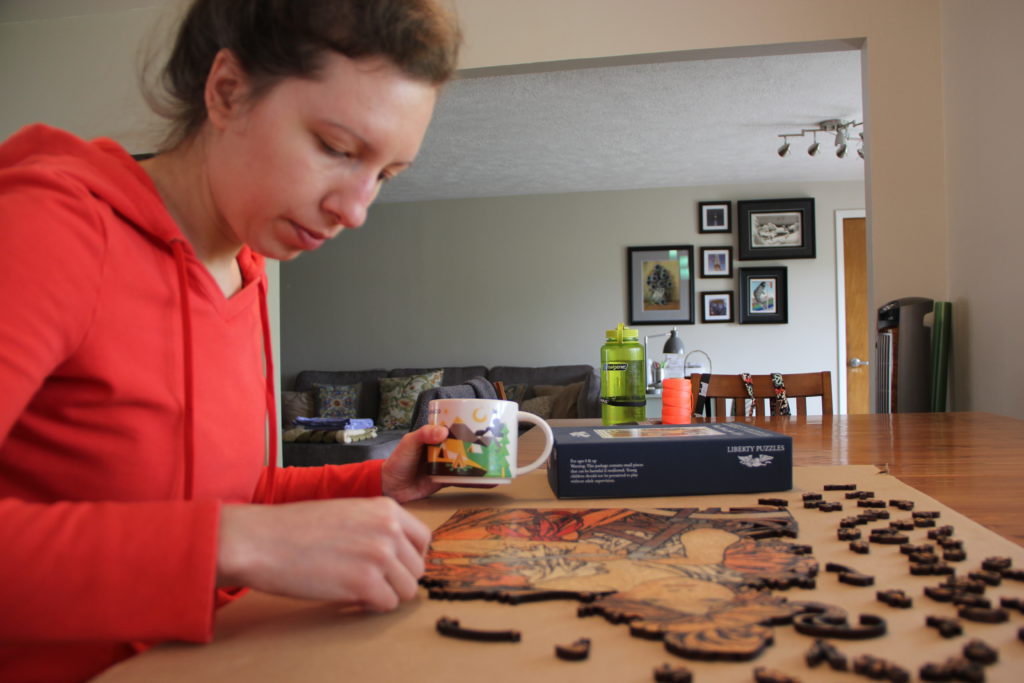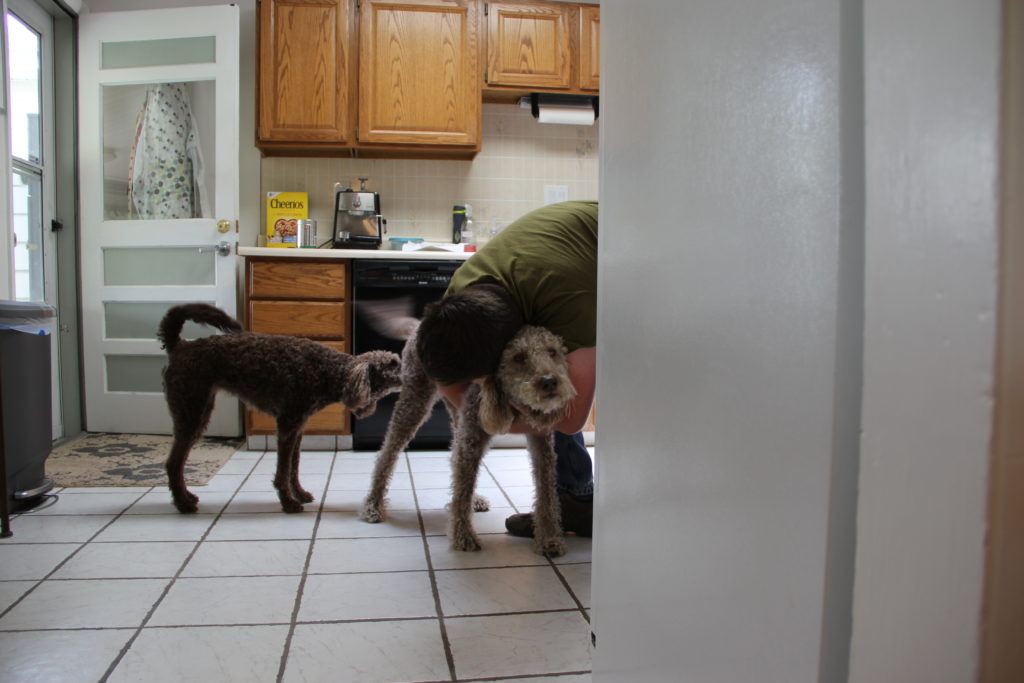 This picture – love it! Makes me laugh 🙂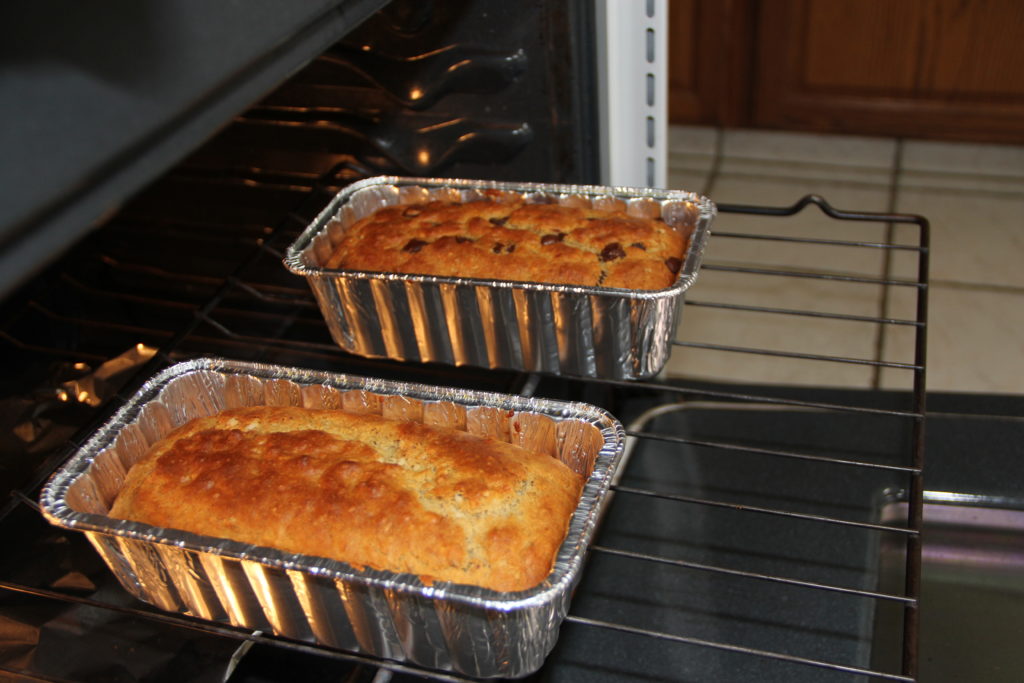 mmmmmmmm, banana bread…had to add some chocolate chips to at least one of them!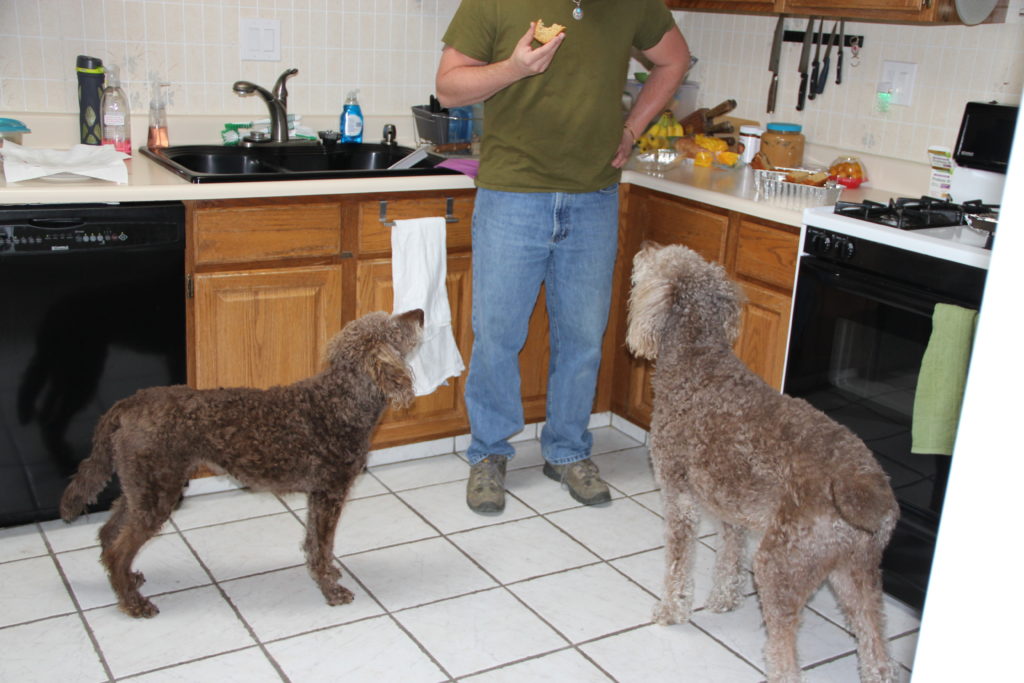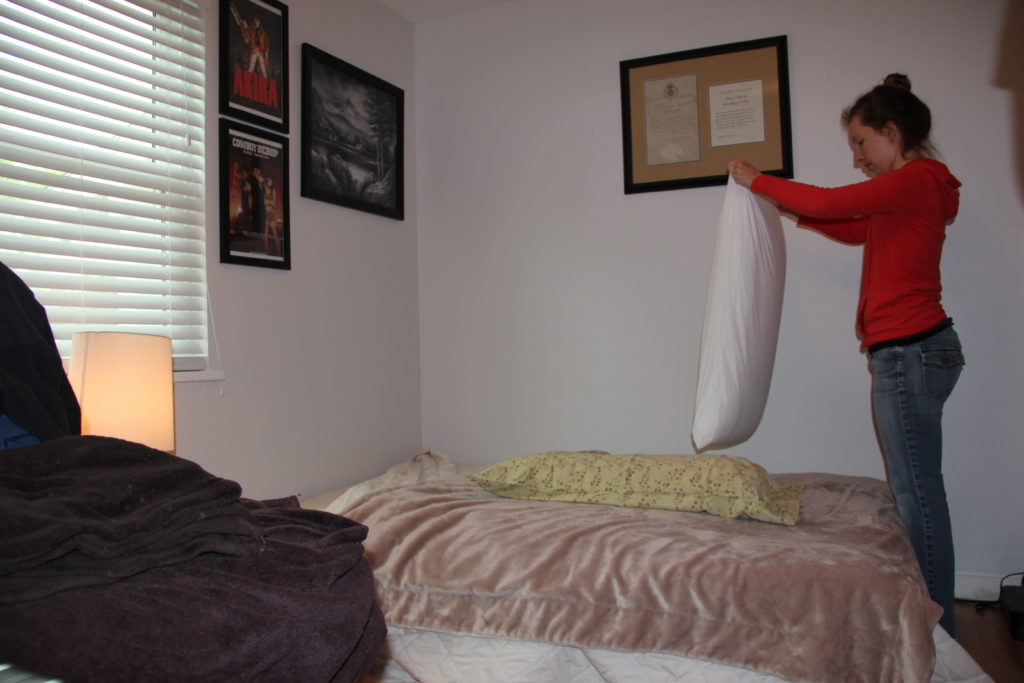 My friend, Dusti, has been traveling to Colorado a lot for work the last couple months. It's been awesome because she just stays with us instead of at the hotel. We've had a lot of fun just hanging out in the evenings. She's due to arrive Monday morning, so I got the bed all set up.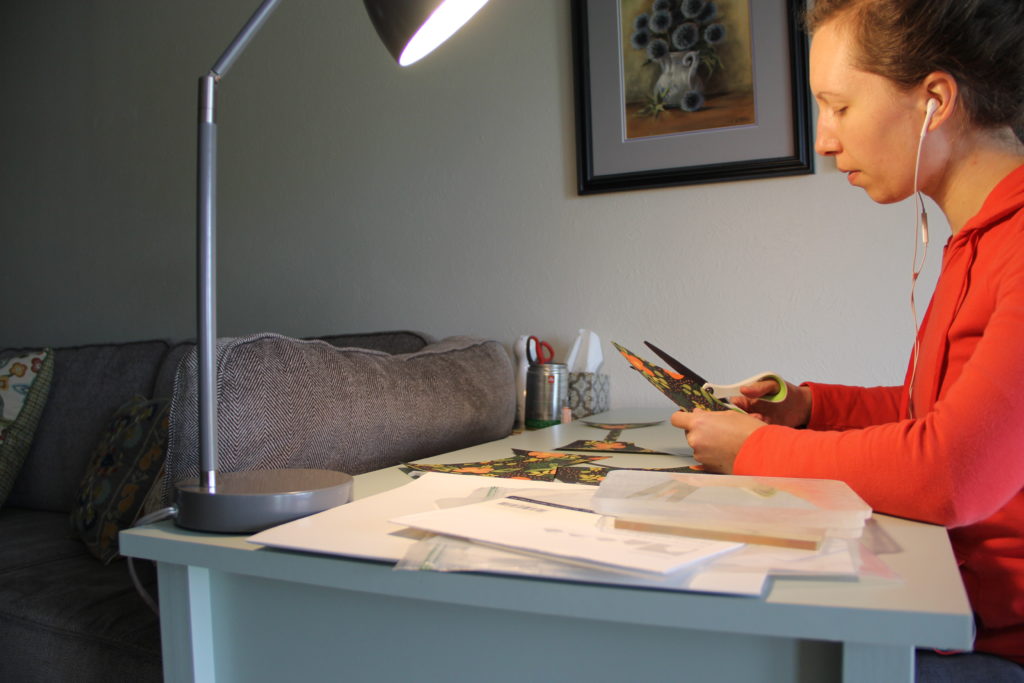 Talked to my mom for a while in the afternoon. My little bro is buying his first house so we we are all excited for him! She also had a job interview this week and got to visit with some friends while there, so she filled me in on all that. I worked on cutting out some envelope liners, with beautiful paper I found last week, while we chatted.
Colin was doing more work in the yard, taking an ugly pole down. Looked like a LOT of work. So grateful that he's such a hard worker and likes to make our home look its best!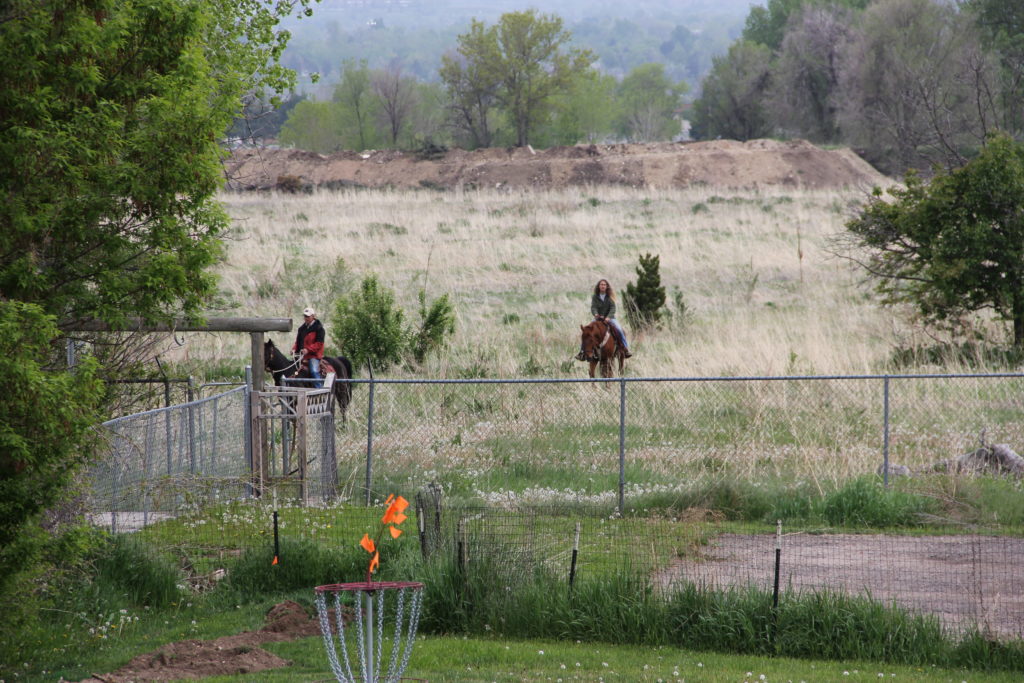 Some folks out in back riding their horses.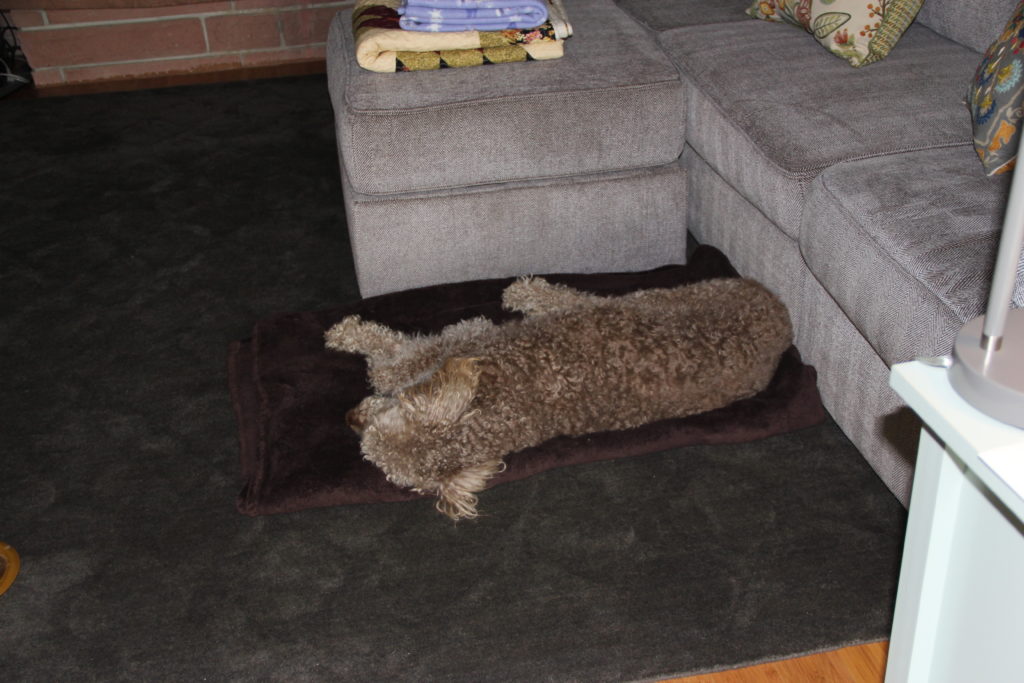 Colin put this blanket down on the floor today and Izzy claimed it. She loves anything soft.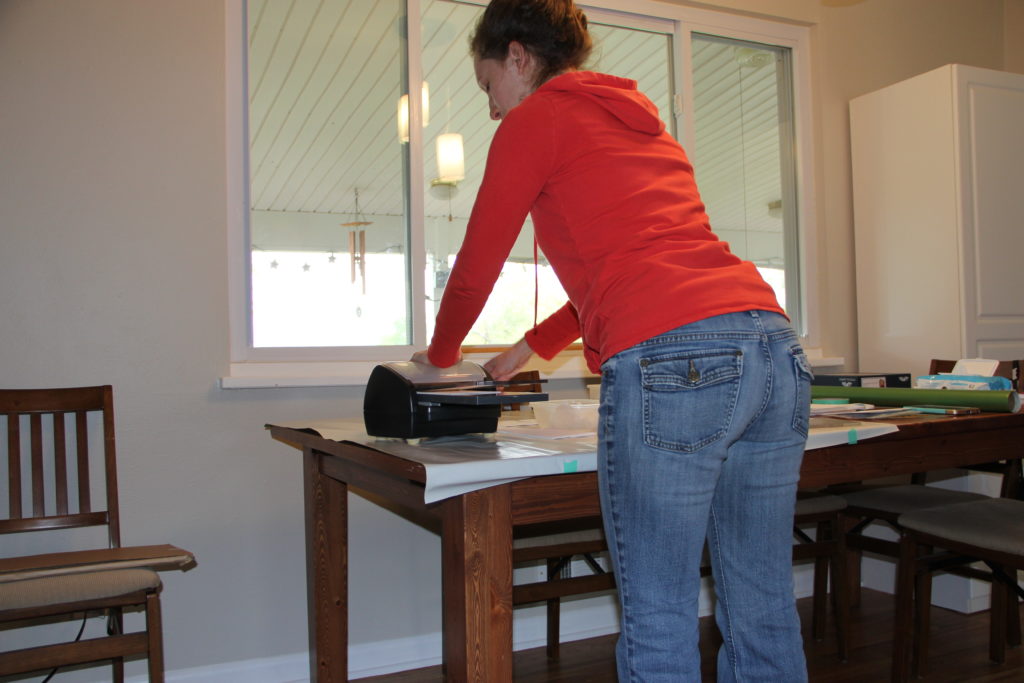 I worked on making some letterpress cards for a friend. Lots of trial and error again, but got some good ones out of the batch.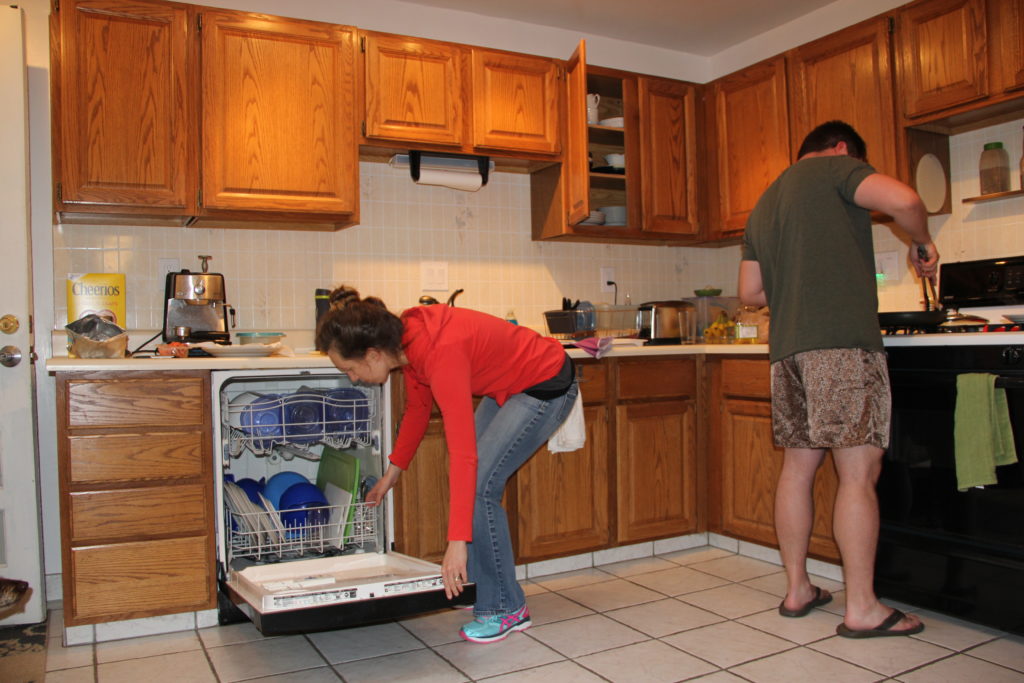 Colin making dinner, me putting dishes away.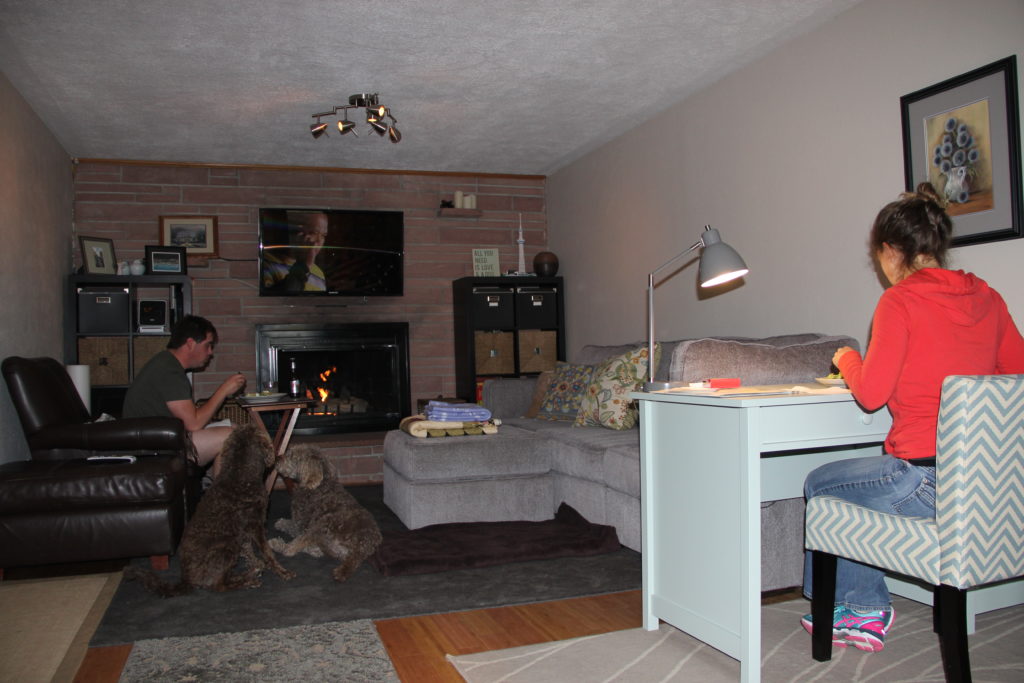 Dinner in the fireplace room (that's what we call it – real original!) Colin has some fans.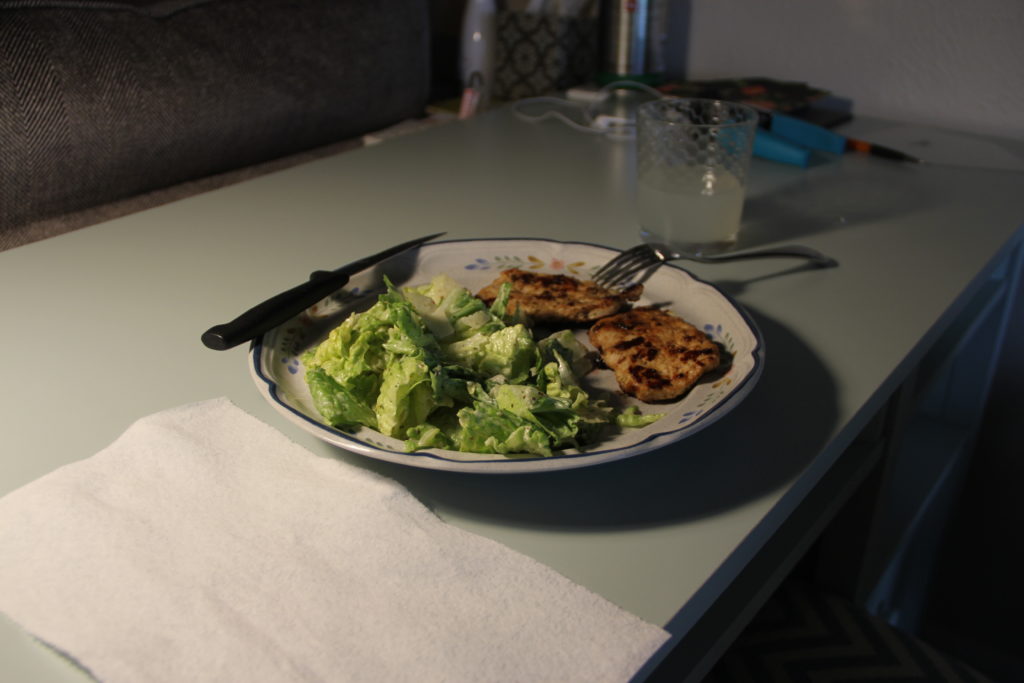 Colin really does most of the cooking. He's become really good at it. Tonight it was pork and Caesar salad. It was seriously so good.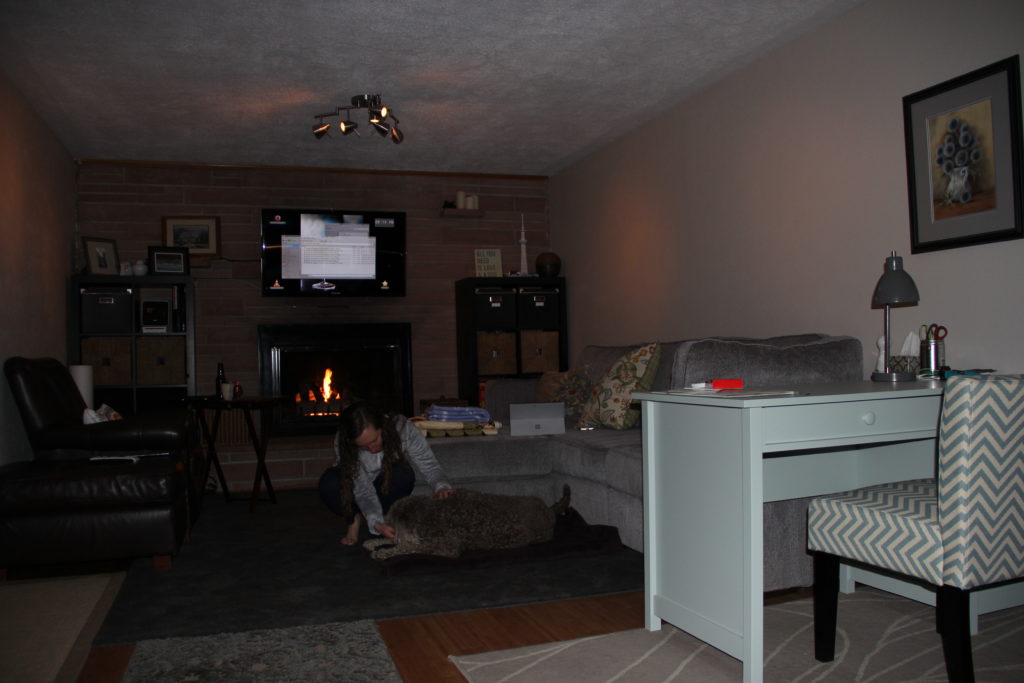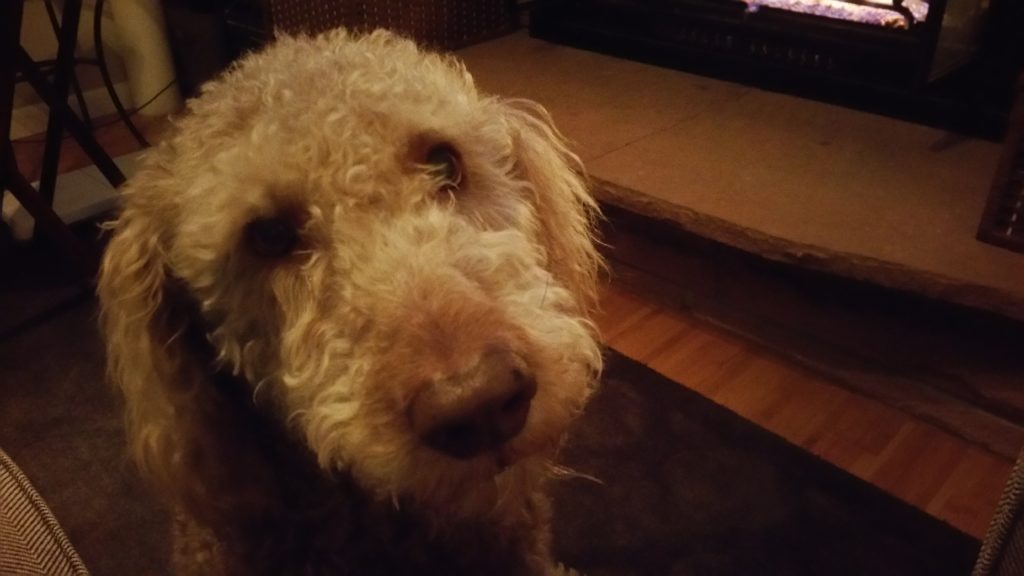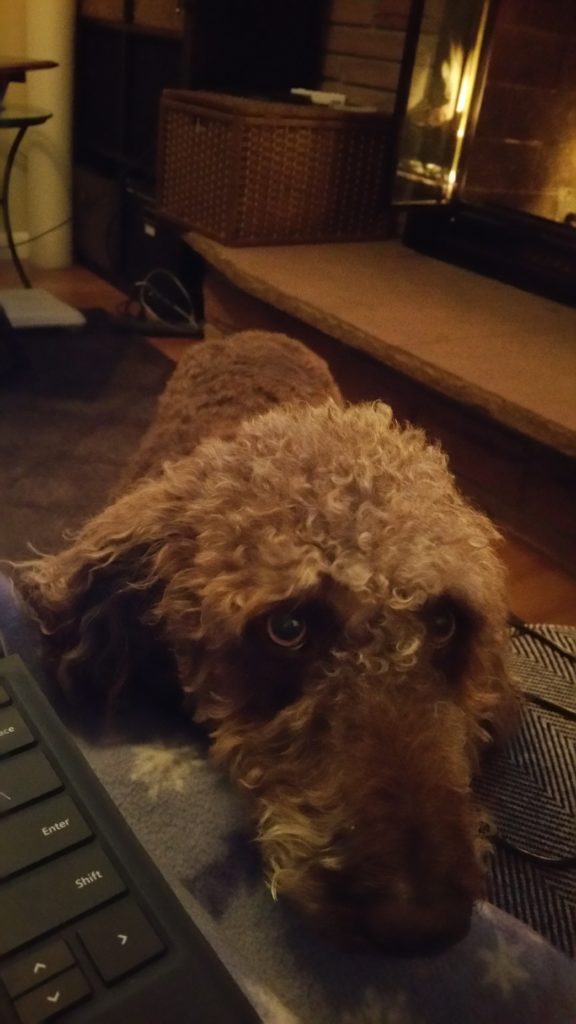 What a great day – what a great week really.
Some thoughts on the week and the WITL project:
It was a pretty low-key week for us. We didn't go a lot of places or have any big plans. Next week is going to be the opposite of that, so I'm really happy to have had some down time.
I'm so glad that I took the time to document most of my days with the photos and words. I think it will help me a lot when I go to make my book.
I took WAY fewer pictures this year and I'm feeling much less stressed about the volume of my project because of it.
I used my phone camera Monday-Saturday and then I got the big DLSR camera out today and pretty much used that exclusively. Although I liked the simplicity of only using one camera each day, I missed my big camera. Next time, I would like to find a better balance of using my phone and using the DLSR.
This project has really helped to put a lot of things in perspective for me this year. There is a lot of stuff going in our lives that I don't have a ton of control over. I get very frustrated with that. This week, though, I focused on the little stuff, the really good stuff, the stuff that makes me (us) happy, the stuff of NOW. Honestly, I feel proud and happy and thankful tonight as I write this.
This week and this project were amazing gifts to me. Even Colin really got into it!
If you followed along with me and read my stories – thank you! I'm so very glad to share this little bit of life with you.